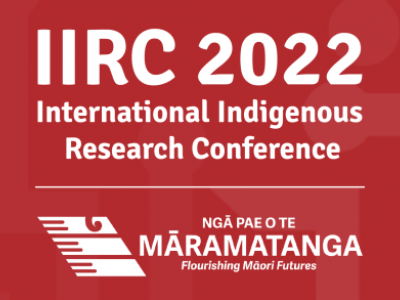 Celebrating 20 years of being Aotearoa New Zealand's only Indigenous Centre of Research Excellence, Ngā Pae o te Māramatanga (NPM) are excited to invite you to join us online from 15 – 18 November 2022 for our 2nd virtual and 10th International Indigenous Research Conference (IIRC).
 

This blended online symposium is an opportunity to strengthen connections within your MAI site whānau and, together, to consider the wider impact and reach of our collective research to grow, nurture and support Indigenous research relations.

2022 Jul 06 6:00 PM to 2022 Jul 06 7:00 PM

"Mana motuhake ki te kāinga. Matatū, Mataora, Matatini ki te ao."

Research reports from leading Māori academics of Ngā Pae o Te Māramatanga – The University of Auckland, Te Wānanga o Raukawa and Te Herenga Waka – Victoria University of Wellington, confirm the benefits of kapa haka to the development and wellbeing of individuals and communities.

2022 Jun 29 9:00 AM to 2022 Jun 29 4:00 PM

The Tū Mai:  Rongoā Māori Symposium reflects a pivotal time in the recognition of the mana of Rongoā Māori by the health and disability sector in Aotearoa.  This Symposium was inspired through working with the Rongoā Māori community as part of a Health Research Council-funded project, Te Ao Rauropi: Mapping the Biosphere of Rongoā Māori.

Ngā Pae o te Māramatanga are thrilled to announce the successful recipients from the 2022 Matakitenga Funding Round. We received a number of high-quality proposals for funding, which were assessed by our Komiti Rangahau and approved by Te Poari o Ngā Pae o te Māramatang

2022 Jun 13 12:00 AM to 2022 Jun 14 12:00 AM

Media SAVVY workshop for Māori researchers is a fees-free workshop aimed at increasing the visibility of Māori researchers and impacts from their work in both mainstream and Māori media outlets. The workshop is facilitated by the Science Media Centre, in partnership with Ngā Pae o te Māramatanga.

In this quarterly webinar series NPM Co-Directors Professors Linda Waimarie Nikora & Tahu Kukutai will be leading a discussion on high quality research and evidence for interventions and policy.
For the first wānanga, Tahu will be taking a long term view over the pae (horizon) with some of NPM's senior research leaders and discussing what needs to be done to realise the vision of flourishing Māori future.

The October 20 webinar recording of the discusssion had with the authors of the report 'He huringa āhuarangi, he huringa ao: a changing climate, a changing world' is now available for viewing on our Media Centre.

Encouraging Māori postgraduate scholarship in law

APPLY HERE | Borrin Foundation – Ngā Pae o te Māramatanga Postgraduate Scholarship

The Michael and Suzanne Borrin Foundation is pleased to announce a new scholarship to contribute to increasing Māori postgraduate scholarship in law. This will be added to the suite of fellowships, scholarships, and grants for individuals offered by the Borrin Foundation.

The scholarship is offered in partnership with Ngā Pae o te Māramatanga, Aotearoa New Zealand's Māori Centre of Research Excellence. The Borrin Foundation – Ngā Pae o te Māramatanga Scholarship is for Māori law graduates who wish to obtain a post-graduate degree in law overseas or domestically.

"A major re-think of the science-policy interface is needed to reflect te ao Māori perspectives, aspirations, and priorities."

Join some of the authors of a new report that argues for a Te Tiriti-led science-policy approach for Aotearoa, and find out why this kaupapa is so important for Aotearoa.

"Te Pūtahitanga" is due to be published 28-April 2021

2020 Apr 23 8:00 PM to 2020 Apr 24 4:00 PM

Novotel, Auckland Airport. 

Address: Auckland Airport Ray Emery Drive, Mangere, Auckland 2022

23 & 24 Aperira 2020 : 23 & 24 April

Hui atu, hui mai

Tīkoro atu, tīkoro mai

Aroha atu, hoki mai

Reo! Reo! Reo!

Kei te pae te hui.

Tukua te rangahau kia kōrero: He hui whāiti tēnei e kapohia ai ngā ariā o ngā pito rangahau kua puta hei kauwhata whakairi i ngā kitenga me ngā manako e ūkaipō ai, e ūkaiawatea ai te reo Māori i roto i ngā kāinga me ngā hapori.

He Aronga: ngā nekenekehanga o te reo Māori o te wā – he whai rautaki rangahau anamata mā Tini kaiamo i te reo; katipa atu, kāinga atu, hapori atu, kaupapa atu.